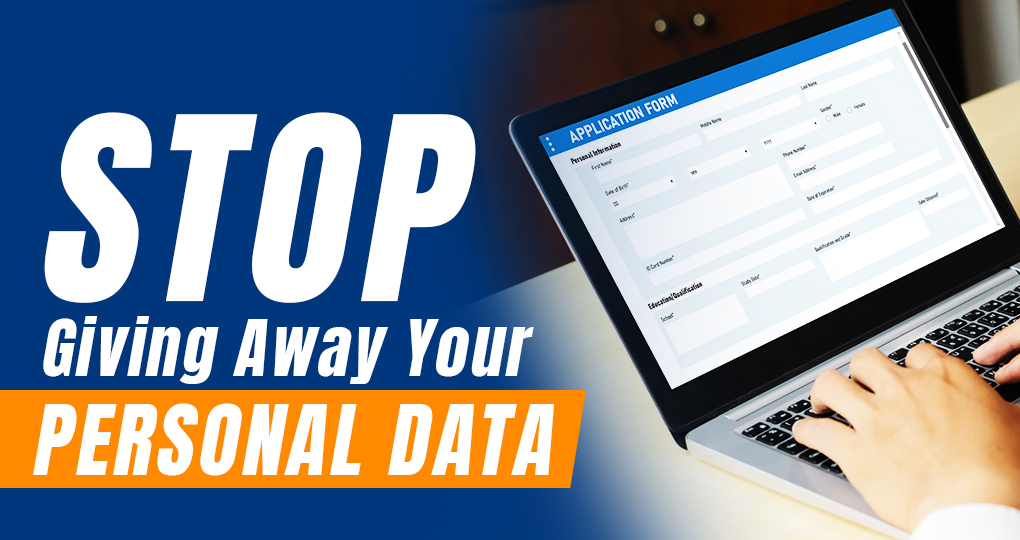 Stop Giving Away Your Personal Data
Are you sure you're protecting your personal data as much as you should be?
Every time you sign up for a new account, make an online purchase or even use a social media platform, you're sharing bits of your personal data. Sometimes, this data can fall into the hands of malicious actors, putting you at risk of identity theft or other cybercrimes. As daunting as this may seem, there are simple steps you can take to secure your information.
By understanding the consequences of careless data sharing and becoming more proactive about your privacy, you can minimize the chances of your personal information landing in the wrong hands.
What We Talk About When We Talk About Personal Data
You might be wondering what exactly personal data is. Well, personal data refers to any information that can be used to identify you. This can include your name, email address, phone number, physical address, and even your online browsing history.
Now, let's talk about why you should be concerned about giving away your personal data. When you share your personal information, it can be collected, stored, and used by companies or individuals with various intentions. Some of these intentions could be harmless, like providing you with a personalized shopping experience. However, others could be malicious, such as identity theft or targeted scams.
You can take several steps to protect your personal data. First, be cautious when providing your information online. Double-check websites to ensure they are secure and reputable before entering any sensitive information. Look for the padlock icon beside the website's URL, which indicates a secure connection.
Another useful practice is to use strong, unique passwords for different accounts. This will make it harder for hackers to access your information. Additionally, consider using privacy tools, such as VPNs, browser extensions, and anonymizing services to add an extra layer of protection.
Lastly, review the privacy policies of websites and applications before using them. This will help you understand how your data is being collected, stored, and used, as well as what control you have over your information.
By following these simple recommendations, you can significantly reduce the likelihood of your personal data falling into the wrong hands. Remember, protecting your personal information starts with understanding what it is and how to manage it wisely.
Why Do We Give Away Personal Data?
Assumptions Of Value
Protecting your personal data is essential, even if you think you're not a valuable target. While it may seem harmless to share personal information on public social media platforms, it's important to be cautious. Cybercriminals can exploit this cavalier behavior to gather information and potentially use it for malicious purposes. Safeguarding your data by being mindful of what you share online is a proactive step toward ensuring your privacy and security.
Convenience Over Privacy
Nowadays, you often prioritize convenience over privacy. You may not even realize that you are giving away your personal data when using various online services. For example, every time you sign up for a newsletter, create an account on a website or use a social media platform, you are willingly providing your personal information. This trade-off might seem harmless at first, but it's essential to understand the potential consequences of giving away your data.
Lack of Awareness
Another reason you might give away your personal data is a lack of awareness. You may not fully comprehend the extent to which your data is being collected, shared, or even sold. Many companies don't clearly communicate their data usage policies, and you might not take the time to read the fine print before consenting. By staying informed about your rights and understanding the privacy policies of the services you use, you can make better decisions about sharing your personal information.
Impacts of Sharing Personal Data
Loss of Privacy
When you share your personal data, you risk losing your privacy. Your personal information, such as your browsing habits and purchase history, can be used by companies and organizations to create a detailed profile of you. This means they can tailor advertisements and content specifically to your interests, which may feel invasive.
Moreover, you lose control over how your data is being used. It could be shared with third parties, sold, or even leaked due to breaches. To minimize this risk, be cautious about what information you share online, and only do so with trusted websites and services.
Identity Theft Risk
Another serious impact of sharing personal data is the increased risk of identity theft. Cybercriminals can use your personal information, such as your name, address, and Social Security number, to commit fraud. They might apply for loans, credit cards, or government benefits in your name, which can cause significant financial and emotional distress.
Be mindful when giving out your personal data and use secure passwords, multi-factor authentication, and monitor your accounts to catch any suspicious activities early on. Remember, protecting your information is crucial in safeguarding your identity and maintaining your privacy.
By being aware of these impacts and taking steps to limit sharing personal data, you can better protect yourself and maintain your privacy.
How To Protect Your Personal Data
Data Protection Strategies
It's important to protect your personal data. Here are some friendly tips to help you:
Recognize phishing attempts: Be cautious while opening emails and clicking on links from unknown sources. If something seems off, it probably is.
Use strong and unique passwords: Avoid using obvious or similar passwords across multiple websites. Make them strong by combining letters, numbers, and special characters.
Enable two-factor authentication: This adds an extra layer of security by requiring additional verification, such as a code sent to your phone.
Be aware of public Wi-Fi risks: When using public Wi-Fi, avoid accessing sensitive information or use a Virtual Private Network (VPN) to secure your connection.
Be careful with social media: Don't divulge personal information such as your birthday, mother's maiden name, pet's name, etc., on social media without first ensuring your profile is private and protected.
Leveraging Privacy Settings
Adjusting privacy settings across various platforms can help you maintain control over your personal data:
Social media: Review privacy settings on platforms like Facebook, Instagram, and Twitter, to control who sees your posts, and limit the amount of information you share.
Web browsers: Use privacy-focused browsers like Brave or Firefox, or adjust privacy settings in your preferred browser to limit tracking and data collection.
Apps and services: Read privacy policies and configure settings on your devices and apps to minimize data sharing.
Opt-out of data broker lists: Some websites offer the option to opt-out from data broker lists, preventing them from selling your information to third parties.
By implementing these strategies and leveraging your privacy settings, you'll be doing your part to protect your personal data.
Don't Undervalue Your Personal Data
The bottom line here is that you can't assume you're not a valuable target for cybercriminals. It's crucial to remain vigilant and take proactive measures to protect your information. By being mindful of what you share online, utilizing strong passwords, keeping software updated, and being cautious of phishing attempts, you can greatly reduce the risk of falling victim to cyber threats. Remember, your personal data is valuable, so take control of its protection and keep your digital life secure.